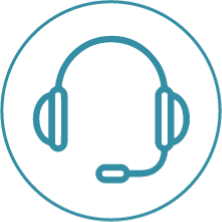 Empower Your Staff with Full Access to Help Desk Computer Support
As business owners, we've all experienced 'Murphy's Law.' that is, anything that can go wrong, will go wrong. However in the world of IT, it's more like anything that can go wrong, will go wrong after 6 pm, on a holiday weekend, when your current IT resource is off skiing at Whistler during their honeymoon. On top of that, when users run into issues or need help (and they will), they often take precious time away from IT projects that will make your operations more effective or make your business more money. Hiring internal IT staff to handle support is an option, but not always economically feasible. That's why businesses rely on Fuse Networks' service desk.
Our remote service desk, most commonly known as a help desk, is a non-stop, always on, resource for you to access in time of trouble or just if you have a question about how to better use your applications. Our team of IT, industry experts, will apply not only their expertise but also our best in class tools to solve your problem, answer your question and get you up and running as quickly as possible.
When you utilize our help desk as part of the 'Fuse Advantage', you receive consistent and reliable IT support because our team's goal is to be there when you need them the most and not just till it's quitting time. You can be confident you will receive the support you need, no matter what the time of day or severity of the issue.
Fuse Networks's Help Desk features:
24/7/365 IT Support and availability
U.S based engineers
Online Client Portal
We realized communication has evolved beyond the ordinary phone and so should your ability to reach support. At Fuse Networks, we have a variety of methods for you to contact us and receive remote assistance, these include our Online Client Portal, Service email and of course you can always call us.
For more information on how a remote service desk can be right for your business or to learn more about the 'Fuse Advantage', contact us at 855-GET-FUSE (438-3873) or complete the contact form and we will gladly show you how valuable a help desk can be for your business.