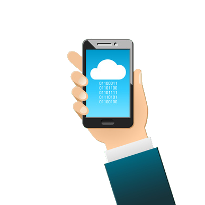 Why Hosted Cloud VoIP?
Cloud VoIP with Fuse Networks provides you with the ability to leverage an assortment of different devices as communications tools, all dialable with a single number and able to access a single voicemail. This kind of access is increasingly important in an accelerating business world.
VoIP also provides an additional level of freedom, as there is no dedicated wire holding your phone system to a single place. This means that the user-friendly collaboration method can be accessed from virtually anywhere, also benefiting your business continuity planning. Our Hosted Cloud VoIP system is also very simple to manage through an easily understood web portal, all available to you for a comprehensive, low monthly price.
Features of VoIP
A VoIP solution also boasts many business-friendly capabilities that would incur a premium charge from a traditional telephone provider, assuming that the provider would offer them in the first place.
Call Features: Our cloud VoIP solution allows users to leverage assorted capabilities to allow them to better manage their calls, including call waiting, call forwarding, call monitoring, and conference calling.
Auto-Attendant: Rather than committing an employee to handling incoming calls as operator, a VoIP solution allows you to provide callers the ability to direct their own calls with a menu system and a dial-by-name directory.
Voicemail Capabilities: Each user on your VoIP system will have their own dedicated mailbox, protected by PIN number and able to send a record as an email to the user.
With Fuse Networks help, your company can leverage a better way to communicate in the modern world, benefitting your business and its bottom line. For an assessment of your readiness to leverage our Hosted Cloud VoIP solution, call us at 855-GET-FUSE (438-3873)