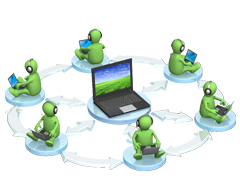 Cloud VoIP is easy to use, cost-effective, and flexible.
Fuse Cloud VoIP is an affordable and feature-rich phone system for small to medium sized businesses. Fully hosted, maintained, and supported by Fuse Networks, you receive great call quality, industry-leading reliability and an easy-to-manage phone system at a low monthly cost.
More than a typical phone system, our solution extends the cloud-based telephony delivery model to include everything your business needs to communicate efficiently and cost effectively. Built on Mitel's awarded-winning telecommunications technology and designed with simplicity and everyday business use in mind, Fuse Cloud VoIP offers an excellent selection of monthly plans and phones from which to choose.


Cloud VoIP Eliminates Communication Barriers
Communicate Anytime, Anywhere!
With Cloud VoIP you can make and receive your calls anytime, anywhere. Giving you the option of using a desk phone, a PC softphone or your mobile device while enjoying all the features of your business phone system. You can assign a single number with one voicemail that works on all devices, transfer calls between your desk and mobile device, extension dial and more. The Web client also allows you to instant message with colleagues
Easy to Use and Deployed in Minutes
With Cloud VoIP it's never been easier to get up and running quickly. Simply plug your Mitel phones into your network, log in with your provided access information and start making calls. It's that simple. For qualifying customers that need assistance, our trained professionals will guide you through Installing your new devices.
Business Continuity and Disaster Recovery
In the event of a natural disaster, power outage or other disruption to your office, the Cloud VoIP Auto Attendant will manage your calls for you, and with Mobile Twinning you can still receive all your calls on your mobile phone.
Simple Administration and Support is included
Through a simple and intuitive web portal you can quickly create new ring groups, move extensions, edit users and much more. Changes can be made by office administrators in seconds rather than requiring expensive IT support that takes days. When you need help, simply call our support team and we'll answer any questions or solve any problems related to your Hosted Cloud VoIP phone system quickly, friendly and with no additional expense.
Cloud VoIP Standard Features
The Fuse Cloud VoIP platform provides access to an array of useful, enterprise-level features, with the reliability of Fuse Networks' support staff, backed by Mitel, an industry telephony leader for over 30 years.
Standard Call Features
Dedicated phone number, routable to any user extension, call group or Auto-attendant
Multi-Party conferencing to join up to eight callers for collaboration
Call Forwarding to any alternate on or off platform number
Call waiting to swap active calls between multiple parties
Call monitoring to manage active calls through the web
UC Web Client
Web based software client for contact management, call routing, and collaboration
Client based instant messaging and chat integrated for inter-office communication
Voicemail access through the web client in additon to Voicemail to email forwarding
Virtual Auto-Attendant
Automatically transfer calls without the intervention of an operator or receptionist
Multi-tiered menus providing callers with access to direct their calls on their own
Customized Day and Night Greettings aligne with your business hours
Integrated Operator with Dial-by-name directory.
Voicemail access through the web client in additon to Voicemail to email forwarding
Our VoIP offering is designed to be flexible and allows you to do more for less. If you evaluate your existing telephony features using a traditional phone plan, you might pay twice as much with all these features enacted. With our VoIP solution you'll get a fully-featured communications system and still save money
For more information about how Fuse Networks' VoIP solution can save your organization money and improve communications across the board, give us a call at 855-GET-FUSE (438-3873).